INTRODUCTION
Thanks to its advanced technologies, the RF Skin Tightening and Rejuvenation Device will help you to:
Fully utilize the effects of your skin care products.
Restore the elasticity and glow of your skin.
Tone your face muscles and tighten your skin.
Remove tiny dark spots and minor skin discoloration.
Remove smaller acne scarring.
Remove the dark circles under your eyes.
Decrease wrinkling and lines across your face.
Rejuvenate your skin and complexion.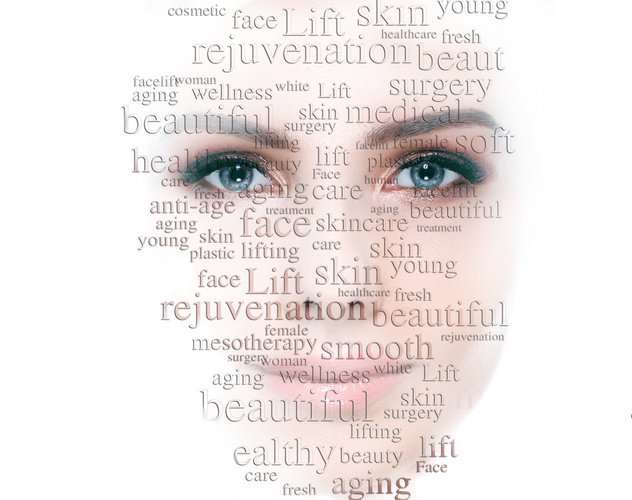 MAIN FEATURES OF OUR RF SKIN TIGHTENING AND REJUVENATION DEVICE
EMS (Electrical Muscle Stimulation) therapy, which tightens face muscles and skin, and decreases wrinkles and fine lines. (EMS Therapy Details)
RF (Radio Frequency) therapy, which induces collagen and elastine production that restore elasticity to the skin and give it a youthful appearance. (RF Therapy Details)
LED (Light Emitting Diode) therapy, that affects lymph nodes and sebaceous glands, decreasing acne, skin redness and discoloration. (LED Therapy Details)
Red Light
Stimulates skin cell activity and collagen and elastin production. Rejuvenates and tightens the skin and reduces wrinkles.
Blue Light
Has an anti-inflammatory effect, kills bacteria, regulates the function of sebaceous glands and prevents acne.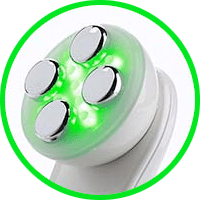 Green Light
Used to treat dark spots, freckles and discolored skin by working to curtail the overproduction of melanin.
Yellow Light
Stimulates the lymph system, alleviates redness and allergy symptoms, and has an overall soothing effect on the skin.
Pink Light
Used to brighten and freshen skin complexion and helps restore the natural color and sheen of the skin.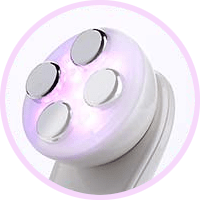 Pink Flashing Light
Enhances the absorption of skin care products, and helps utilize the active substances they contain.
HOW TO USE THE RF SKIN TIGHTENING AND REJUVENATION DEVICE
Prior to using the radio frequency skin tightening and rejuvenation device for the first time, make sure to place it on the charging base and charge it fully. During charging, the LED indicator will be white, and a battery icon will blink on the screen. A completely empty battery can be charged within 3-3.5 hours. A fully charged battery provides around 100 minutes of use, or 10 treatments.
Turn on the device by pressing the POWER button. At that point, the intensity will be at the lowest stage, which the LCD will indicate. Each time you press the POWER button, it will increase the intensity by one, until it cycles back to the initial value. Pressing the LED SEL button will select the LED color. Every time you press the LED SEL button, it will activate a different color.
Hold the radio frequency skin tightening and rejuvenation device in a way that ensures your fingers are in contact with both of the metal strips on the sides, and then place the electrodes on the part of the skin you would like to treat. Make sure that all four electrodes are in constant contact with your skin, and that your fingers are always touching the metal straps. This will complete the circuit, which is one of the basic preconditions that will ensure your device will work as intended.
FOR THE BEST PERFORMANCE OF YOUR RF SKIN TIGHTENING AND REJUVENATION DEVICE
For optimal effect, thoroughly clean the area you would like to treat prior to using the device, and then apply one of your skin care products. Using specialized serums, creams, or hyaluronic acid designed for treating specific issues achieves the best results, but you can also use a gel, tonic or hydrating cream. The most important thing is to ensure that the skin you will be treating is sufficiently hydrated.
The radio frequency skin tightening and rejuvenation device can be used anywhere on your body, but is intended for, and achieves the best results on the face and neck skin. When using the device on your face, you need to follow the contours of your face, using slow motions from your nose or forehead towards the ears, and from the chin towards the forehead.
The device can be used for all skin types and skin pigmentations. It is recommended to use it 2-3 times a week, 10 minutes at a time (max. 20 minutes). The device has an inbuilt timer and will shut off automatically after 10 minutes have passed. During the treatment, you should feel a mild tingling sensation, the intensity of which will depend on the intensity you selected.
Your first treatment with the radio frequency skin tightening and rejuvenation device should start at the first point, and should be increased gradually to a comfortable level. The treated area will also become warmer – this is normal, as the device's RF waves will heat the subcutaneous tissue to about 108° F.
After completing your treatment, you might see some redness on your skin – this is also normal, and should disappear in about 20-30 minutes. After completing the treatment, clean the head and electrodes with a soft cotton cloth and rubbing alcohol.
This radio frequency skin tightening and rejuvenation device is intended for personal use only, and should be kept out of reach of children. Note that you should not use this device if suffering from medical conditions like epilepsy, chronic heart conditions, are pregnant or have a pacemaker or other battery-powered aids installed. If you happen to be wounded or injured and wish to treat an injured area with this device, please refrain from doing so until fully healed.
Prior to using the device, be sure to read the instructions. If you encounter any issues or have questions about how to use the device, feel free to contact us, and our customer support will respond as soon as possible. We are certain that your experience with the radio frequency skin tightening and rejuvenation device will be a pleasant one.
PACKAGE CONTENT
1 × Main Device
1 × Charging Base
1 × USB Charging Cable
1 × Instruction Manual